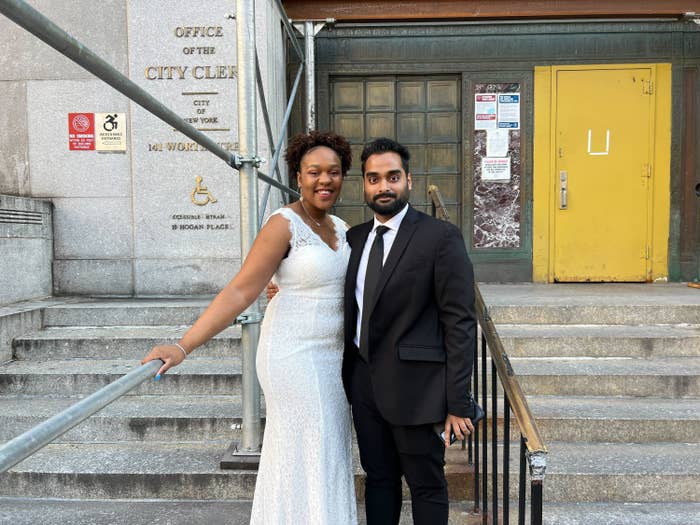 MANHATTAN — As crowds gathered around Manhattan Criminal Court on Tuesday morning, ahead of Donald Trump's arraignment, it's business as usual at the City Clerk's office next door.
Khalia Beckford and Peter Don, college sweethearts who met four years ago at LaGuardia Community College, are in a bubble of happiness — they're getting married today and they are not letting the news cycle get in the way.
"I did not plan for this," Beckford told BuzzFeed News. "I heard about it at work but didn't know this was happening. But it's dope. It's a moment, and it's not going to ruin my big day. The cameras [are] for me. Everyone came for me."
Don proposed at home on a Friday. "It was nice," she said. "I was coming home, I didn't know what was happening, and he decorated it well."
Wearing a white lace dress she purchased last night from Macy's, Beckford, who is from Jamaica, was first in line outside the clerk's office waiting for their 8:30 a.m. appointment.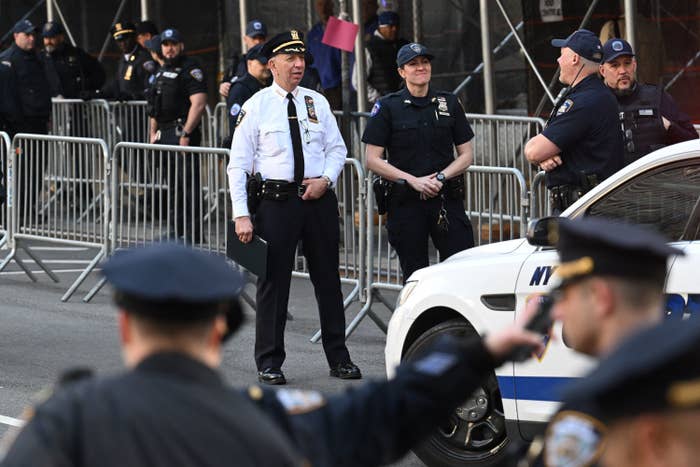 Donald Trump is set to voluntarily surrender to authorities Tuesday, where he will be formally booked and fingerprinted. His hearing is expected to begin at around 2:15 p.m. Eastern time. As Trump traveled to New York from Florida on Monday, news networks broadcast live images of his motorcade driving to Palm Beach International Airport as crowds of supporters lined streets and waved flags. With similar scenes expected Tuesday, much of downtown Manhattan has been barricaded and many streets have been blocked off. New York City Mayor Eric Adams issued a warning to "rabble-rousers," saying the city is "not a playground for your misplaced anger."
But Beckford said she's paying no mind to the happenings next door. "I'm not thinking about anything. I'm just thinking about being married and just being happy," Beckford said. "This is our big day."
"Are you getting married today?" a passerby called out. "What a day."