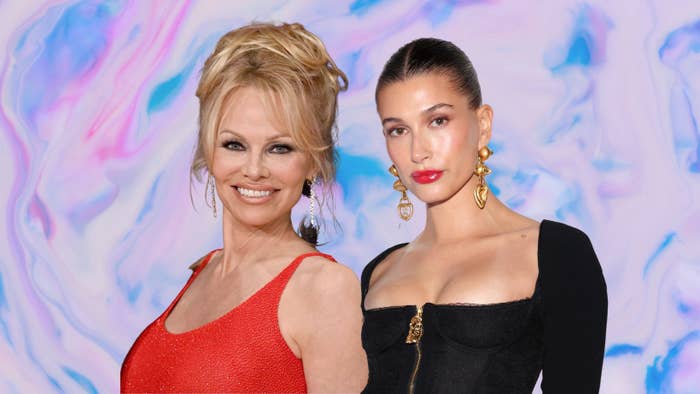 BuzzFeed may collect a share of sales or other compensation from the links on this page if you decide to shop from them. All products were independently selected by editors, and the prices were accurate and items in stock at the time of publication.

By now we all know that wearing sunscreen year-round is absolutely imperative, even when it's gloomy out. But as spring approaches, it becomes even more important to slap on some SPF before stepping outside. When choosing what works best for you, there are a few things to take into consideration, including your preferred texture, formulation and price point. If you're looking to switch up your sunscreen routine, there's one in particular that celebrities have been loving lately.
Both Pamela Anderson and Hailey Bieber are fans of Summer Fridays' ShadeDrops SPF 30 mineral sunscreen, a great option for anyone looking for a lightweight, naturally radiant finish that protects from UV rays while also providing nourishing ingredients to the skin. And best of all, it's reef-friendly, so you can rest assured that nature isn't being harmed while you take a dip in the sea.

You can buy the Summer Fridays' ShadeDrops SPF 30 mineral sunscreen from Sephora for $36.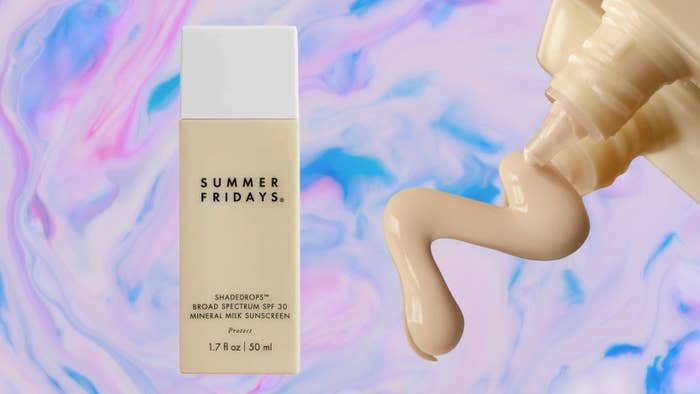 Made with vegan and cruelty-free ingredients, this sunscreen is formulated with zinc oxide, squalane, chamomile and an antioxidant blend of vitamin E and ethyl ferulate. They work together to shield the skin from sun damage and to hydrate, soften and smooth the skin and protect against further damage from free radicals. The drops create an ethereal glow that isn't slick or oily, leaving the complexion with a silky, youthful texture.
It's one of Anderson's daily essentials — so much so that she apparently carries it around with her all day long.
She pulled it out of her Stella McCartney bag during an "In The Bag" YouTube video for British Vogue, noting that she wishes she had used SPF more often when she was younger.
Hailey Bieber used so much of the sunscreen that she posted a photo of it on her Instagram stories, with a caption reading "EMPTY."
Summer Fridays's ShadeDrops has a super-subtle universal tint that blends with all skin tones — which multiple reviewers confirm. In addition, users say, it doesn't leave a white cast, clog pores or feel heavy, which is a must when you're wearing over other skin care products, under makeup or have a deeper skin tone.
If you're considering ditching your current sunscreen or have already been on the hunt for a new one, this beauty checks off a lot of boxes. It isn't easy to find a mineral sunscreen with a lightweight finish, and that alone makes it worth considering. I also find it reassuring that it has both Anderson's and Bieber's stamps of approval. They are of very different ages, with unique, individual skin concerns and lifestyles. When a product does well with a range of people, there's a good chance that it's more universal than not.
Check out some of the raves this luminous sunscreen is getting over at Sephora and then pick one up for yourself.
Promising reviews:
"I have extremely sensitive skin and this sunscreen has been an absolute dream come true for me. It wears so light like a lotion, has zero sunscreen smell, and the best is that it doesn't irritate me OR clog my pores / break me out. I never thought I'd love a sunscreen so much and have never wanted to follow the rules of wearing sunscreen under makeup until now. PLEASE Summer Fridays - make a body-sized version of this stuff!!!" — evelynnii

"I have tried at least 5 different sunscreens that would either make my skin super oily (I already have oily/combination skin) or break me out. I haven't had a sunscreen apart of my skincare routine in years because of this but I was eager to find one. I decided to take a chance on this given the positive reviews, but was a bit nervous due to the price point. HOWEVER, I have been using this sunscreen for a couple weeks and it is the best sunscreen I have ever tried. It doesn't leave my face oily, or leave any weird residue or white haze. It doesn't break me out and my makeup sits over it beautifully. Personally, I think it's very expensive for 50ml but for me it's worth every single penny." — itsonlyciara

"I have sensitive skin and I still loved it! Buy this now! I have bought every expensive face sunscreen there is- elta MD, la roche posay, supergoop, biossance, etc. This has the same zinc oxide content as elta MD (good sun protection!) but feels so light on skin." — Xan445

"Undetectable. SPF is a part of my daily routine - this is my go-to. I shake the sleek and functional bottle, apply a finger-length amount of this lightweight, mostly unscented (noticed a distinct smell when I started using the product - no longer smell) and non-runny sunscreen that sinks right into the skin without any white cast and a natural finish. Layering well over and under my other products. This sunscreen does not burn my eyes if I sweat!"— jaymeraye