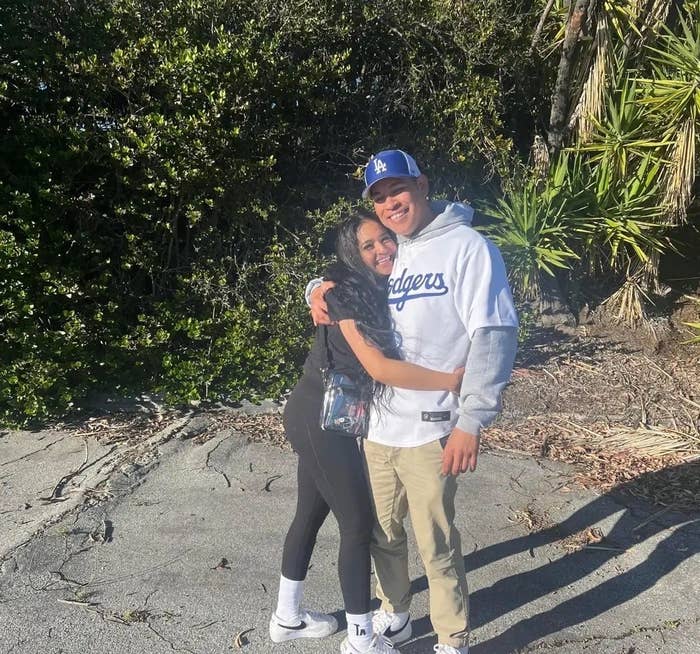 Baseball fans are always in high spirits on opening day at Dodger Stadium, and Ricardo Juarez was no exception.
He'd been planning for two weeks to propose to his girlfriend as they sat in the bleachers, he told BuzzFeed News, but when the moment arrived, he wanted to go bigger for the mother of his child, whom he's been with for three years. Video shows Juarez running onto the field, getting down on one knee — and then quickly getting tackled by stadium security.
Meanwhile, Stephani Gutierrez, his now-fiancé, and the friends they attended the game with were surprised.
"I didn't even see him run into the field. I didn't see him until literally five seconds before — then I almost missed the whole thing. I barely caught it, and then he got knocked down," she told BuzzFeed News. "I was so confused. Of course I was going to say yes, but I didn't even get to say yes. I was yelling."
Juarez told BuzzFeed News that he was shocked when he got tackled by security, and the only thing he could think about was not losing the ring.
It's not the proposal Gutierrez expected, and she said if she'd known what he was about to do, she'd have tried to talk him out of it.
"All the people that I went with were like, 'What the hell?' If he would've told us that he was going to do that, we would've all told him that's a huge no-no, he can't do that," she said.
Gutierrez said that after the tackle, Juarez spent a couple of hours in jail, and upon release, he got a second chance to propose in a more intimate setting. That's when she finally had a chance to say yes.
Since their engagement went viral, the couple have been overwhelmed with media attention. Some people found the proposal heartwarming, while others online have scolded the couple. Gutierrez said they've been ignoring the comments altogether to avoid ruining their engagement.
"I think we get it. We got that we were going to get the negativity," Gutierrez said. "We're so happy right now that we don't want to let other people's negativity just bring us down."
Juarez is banned from Dodger Stadium for a year, and he is still recovering from his injuries from being tackled. Looking back on the moment, he gave BuzzFeed News some relationship advice.
"He says that he would tell any man out there who loves their significant other to tell them in that moment how they really feel and that they really love them, and not to hide their feelings from them," Gutierrez said, translating Juarez's comments from Spanish, "because he thinks that most men nowadays will not express themselves because they're embarrassed. He says go out, show your woman that you love them."
The couple have set up a GoFundMe for anyone who wants to donate money to their wedding.