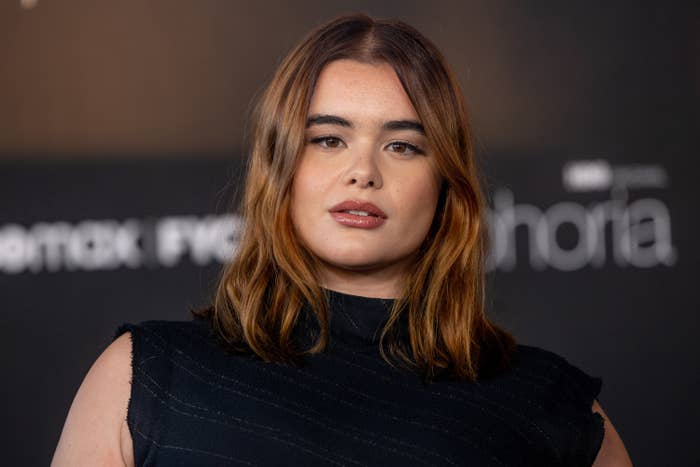 Barbie Ferreira has set the record straight on what happened on the set of Euphoria.
In an interview for Dax Shepard's Armchair Expert podcast, the Nope actor rejected the rumors that she had a dramatic falling-out with creator Sam Levinson while filming the second season of the Emmy-winning show.
"I actually did not walk off set. I did sprain my ankle once and had to go get an X-ray. Maybe that's what they mean," Ferreira said.
Celebrity gossip Instagram account DeuxMoi reported that Ferreira, who played Kat in the first two seasons of the show, allegedly left the set after arguing with Levinson over her character's storyline. But Ferreira also pushed back on theories that there was conflict between her and Levinson.
Fans began speculating about a feud between Ferreira and Levinson after they noticed Kat received far less screentime and lacked a significant storyline compared to Season 1. In August, she announced on Instagram that she would not be returning for Season 3, further fueling the rumors.
"After four years of getting to embody the most special and enigmatic character Kat, I'm having to say a very teary-eyed goodbye," Ferreira wrote. "I hope many of you could see yourself in her like I did and that she brought you joy to see her journey into the character she is today. I put all my care and love into her and I hope you guys could feel it. Love you Katherine Hernandez."
However, Ferreira told Shepard that her departure was a mutual decision. She said the writers struggled to figure out how to continue Kat's story.
She said she wasn't sure the plan they did come up with for Kat would have done the character justice but did not resent the writers at all. She added that she didn't want to play the "fat best friend," and that she didn't believe the people behind the show wanted that either.
"I don't think there was a place for her to go," Ferreira said. "I think there were places she could have gone. I just don't think it would have fit into the show."
She added that Levinson usually writes on topics he relates to, and he couldn't do that with Kat. Levinson has opened up about how he uses his personal experiences with addiction to write for Rue (Zendaya).
Ferreira said she had mixed feelings about her decision to leave the hit HBO show at first but eventually realized it was right for her.
"When people ask me about Season 2, it's usually they come at me with, like, I was some sort of victim to Season 2, and I'm always like, no, it's OK, promise," she said.
She is set to star opposite Stranger Things actor Dacre Montgomery in the remake of the 1978 horror film Faces of Death, which will begin filming this month, according to Deadline.