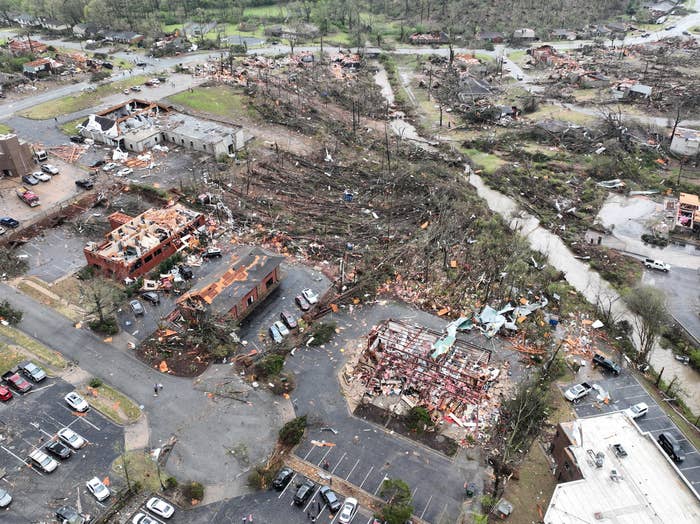 Deadly storms have continued to tear through the Midwest and South for the second weekend in a row, killing at least 21 and injuring dozens more on Friday.
Eight states across the midsection of the US, from Alabama to Wisconsin, reported 57 tornado sightings, according to the National Weather Service. Reports included descriptions of road blockages, dozens of power lines blown down, overturned buses and trailers, and overwhelming damage to businesses and homes.
In Arkansas, Gov. Sarah Huckabee Sanders confirmed five fatalities in the state on Saturday morning, with reports of more potential casualties. Three fatalities were confirmed by the Indiana State Police early Saturday, and at least one was confirmed dead in Illinois after a roof collapsed on a crowd of concertgoers. The Mississippi Emergency Management Agency announced another fatality in the state a few hours later. By Sunday morning, the number of deaths had risen to at least 27, per the New York Times.
"We expect more injuries to come up in the next 24 hours," Sanders said at a Saturday morning press conference. Little Rock, Arkansas, mayor Frank Scott Jr. confirmed that 24 people had been hospitalized as of Friday night, as people continued to share videos of the tornado and wreckage on social media.
Little Rock fire department chief Delphone Hubbard described the devastation in a Friday press conference. "We've responded to overturned vehicles, heavy damage to residential and businesses in the community, along with downed trees, downed power lines, ruptured gas lines," he said. Wynne, Arkansas, mayor Jennifer Hobbs told CNN that the town had been "cut in half by damage from east to west."
Meanwhile, a roof collapsed on a crowd of concertgoers at the Apollo Theater in Belvidere, Illinois, killing one, injuring dozens, and hospitalizing 28, Belvidere fire chief Shawn Schadle confirmed on Friday. Schadle said about 260 people were in the venue at the time of the collapse. Five patients had severe injuries at the time of transportation.
A performing band, Morbid Angel, posted a notice on Facebook that the show had been canceled, and that the band was sheltering in place. "Right now our focus is on making sure everyone in the venue tonight is ok and gets home," the band wrote.
In an email statement, Morbid Angel told BuzzFeed News their thoughts were with those who were still injured and hospitalized. "Our deepest and heartfelt condolences to the family and friends of the individual who tragically lost their life last night in the venue roof collapse due to heavy winds from a Tornado," they wrote. "We truly hope for a fast recovery of all who were injured."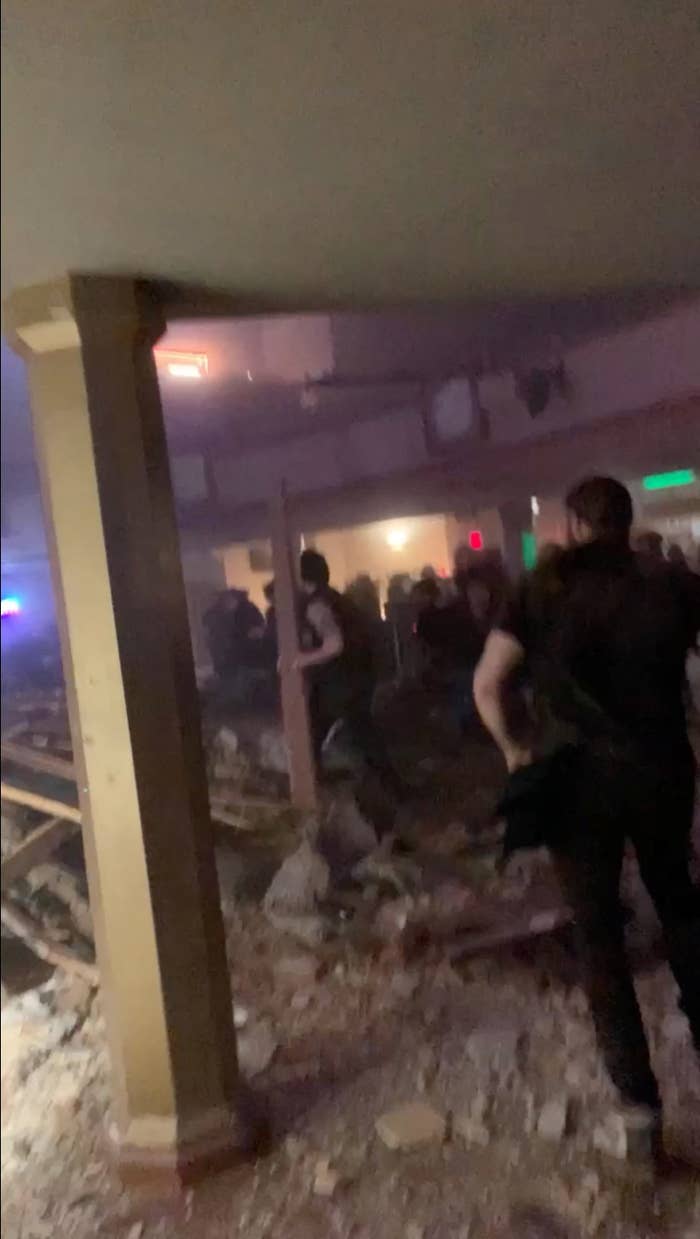 "My administration is closely monitoring the roof collapse at the Apollo Theatre in Belvidere tonight," Illinois Gov. J.B. Pritzker tweeted Friday. "As we learn more, please follow the guidance of all local authorities."
Over 250,000 homes were left without power across the affected states as of Saturday morning, according to tracking site poweroutage.us, with Indiana and Minnesota experiencing the most outages. Schadle told press that search-and-rescue missions had included pulling residents trapped in elevators and from debris. "It's an unstable situation," he said.
This is the second weekend that swaths of the country have seen extreme storms, after tornadoes killed 24 in Mississippi and Alabama last Friday and razed entire towns to the ground. The violent twister's path stretched 100 miles on the ground, and it was described by meteorologists as a rare tornado, given its longevity and strength over a period of time.
Weather disasters are inextricably linked to human-induced climate change. The planet has already warmed 2.1 degrees Fahrenheit since 1880, according to NASA, and that's making disasters worse. Wildfire seasons are getting longer. Hurricanes are getting wetter and more dangerous. Heat waves are getting hotter, more frequent, and longer-lasting. Heavier rainfall across the US is triggering more inland flooding. And the cost of climate disasters is soaring. Stopping this vicious cycle will require drastically reducing our reliance on climate-polluting fossil fuels.
UPDATE
This story has been updated to include the number of known deaths, as well as to include a statement from Morbid Angel.