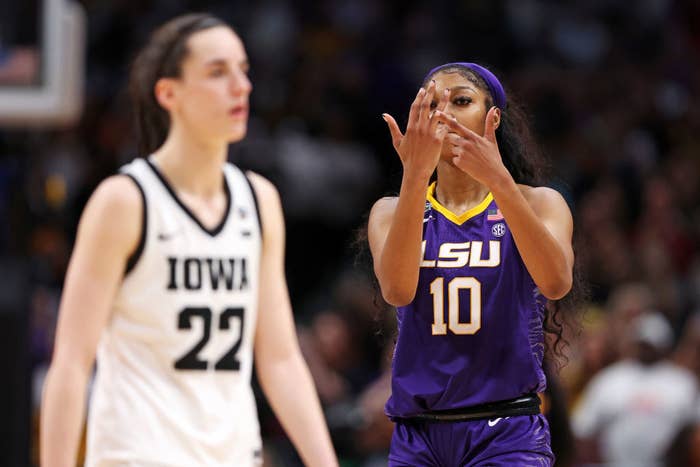 A showdown between two college basketball teams has generated a heated debate around sportsmanship — but also spotlighted a glaring double standard for Black women athletes.
Louisiana State University's Angel Reese was described as "classless" by sports fans who took issue with her taunting Iowa star player Caitlin Clark when their two teams faced off for the NCAA women's basketball tournament on Sunday.
"All year, I was critiqued about who I was," Reese said at the postgame press conference. "I don't fit in a box that y'all want me to be in. I'm too hood. I'm too ghetto. But when other people do it, y'all say nothing.
"So this was for the girls that look like me that's going to speak up on what they believe in. It's unapologetically you," she added.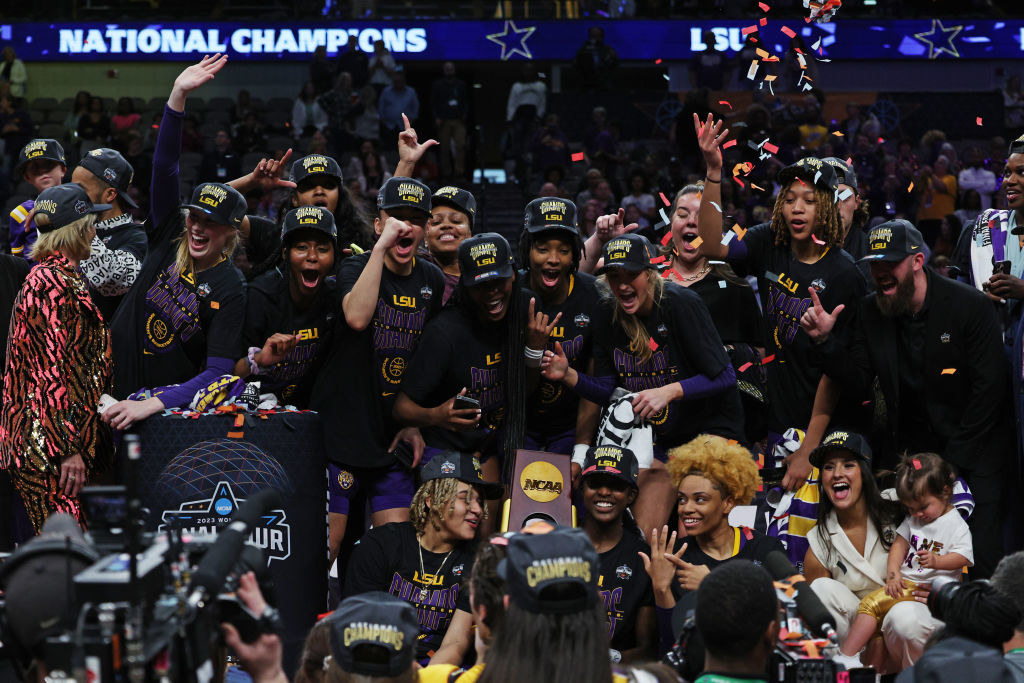 Reese, who transferred to LSU this season, was among the most-talked-about athletes during the tournament.
For the final on Sunday, the 20-year-old from Baltimore served Clark a taste of her own medicine when she mirrored the "you can't see me" taunting motion that the Iowa point guard had displayed earlier in the tournament.
The taunt was made popular by WWE superstar John Cena, who also cheered on Clark when she dropped it during a showdown against the Louisville Cardinals.
Reese decided to one-up Clark by gesturing to her index finger and signaling her pending championship ring.
The LSU Tigers defeated the Iowa Hawkeyes 102–85 to win their first NCAA tournament title, but a lot of people online seemed more focused on Reese's conduct.
Reese told reporters at the press conference that the game was "bigger" than her and made sure to highlight the differences in reception. Just days prior, Clark's "clap backs" were compiled for an ESPN package, celebrating the record-breaking athlete's court quips and trash talk.
The clear double standard prompted the likes of LeBron James, Samuel L. Jackson, and much of Black Twitter to rally in Reese's defense against raging criticisms she was receiving.
ESPN's Stephen A. Smith also weighed in with his assessment of the situation after giving praise to Clark but also noting that she had "instigated" the type of taunting displayed on Sunday.
"We all know that there's a white/black issue here, because the fact of the matter is when Caitlyn did it, people were celebrating it, and they were talking about nothing but her greatness," Smith said.
"But then the second a sister stepped up and throws it back in her face, now you got half the basketball world saying, 'Well, you know what, that's not the classiest thing to do.' It was the exact same thing."
Despite the heat, Reese doubled down on social media, posting a photo of herself in action and following up with another tweet, writing, "And no I'M NOT KEEPING IT CUTE."
Reese was named the 2023 Most Outstanding Player in the NCAA women's tournament.